The Aloe, Cactus and Succulent Society of Zimbabwe was established on the
30th March 1969 when its Constitution was unanimously adopted at an inaugural meeting of interested persons.
The Aloe, Cactus and Succulent Society of Zimbabwe, is a non-profit organisation, concerned with the enjoyment, preservation, conservation and popularisation of aloes, cacti, succulents, cycads and palms. ACSSZ encourages the wider appreciation, education and knowledge of a variety of water-wise plants. Our Committee Members are passionate about Zimbabwe's indigenous plant heritage.
The Aloe, Cactus and Succulent Society of Zimbabwe incorporates the "Palm and Cycad Branch".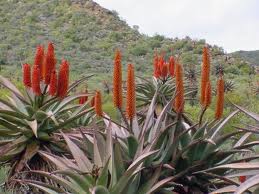 "Xerophytica 2014 - Plants for our Future - Congress" and Post-Congress Tours were held in Harare from 20 - 28 June 2014.

The Objectives of the Aloe, Cactus and Succulent Society of Zimbabwe are:
to unite all who wish to foster a wider appreciation of aloes, cacti and succulents;

to promote the extension of member's collections of aloes, cacti and succulents on a disciplined basis and to serve their interests in this connection;

to work for the preservation and conservation of the indigenous flora of Zimbabwe, particularly aloes and succulents, in their natural habitat, and to collaborate with the appropriate authorities in this regard;

to strive for the establishment in botanical gardens, parks or other areas, of species of aloes and succulents threatened by extinction;

to carry out and encourage research work on aloes, cacti and succulents and thereby expand knowledge in this field;

to co-operate and liaise with appropriate Government Departments and bodies to further the aims of the Society;

to affiliate to any Society having similar objectives.
ACSSZ MEMBERSHIP AND SUBSCRIPTIONS:
New members are very welcome and subscription details are available from the Honorary Secretary at:
PO Box CY 300, Causeway, Zimbabwe
or by emailing aloesocietyzim@gmail.com
Payment of the annual subscription entitles members to participate in all functions and to enjoy all the facilities of the Society, and to receive the society's publications including: Ingens, the Society's biannual publication, the monthly newsletter and others, as well as gaining access to the specialised library, seed bank, affiliations and resources of the society.
Bank transfers to Zimbabwe are very expensive, we have found the most cost effective for The Aloe, Cactus and Succulent Society of Zimbabwe to receiving funds from outside of Zimbabwe is using EcoCash this is a mobile network money transfer service.
The Aloe, Cactus and Succulent Society of Zimbabwe has set up a phone to utilise these transactions, the Number is +263 783 911314
There are two methods:
Payment using Western Union.
Visit any Western Union agent or on the Western Union site and select the above Comet mobile number as the destination for the funds. Funds are instantly routed to the Societies EcoCash wallet in Zimbabwe
Payment using World Remit.
Go to www.worldremit.com
Register as a sender
Select EcoCash as money transfer medium
Use your bank account, debit card or credit card to transfer funds
Funds are instantly routed to the Societies EcoCash wallet in Zimbabwe
Download our membership form and email along with proof of payment to aloesocietyzim@gmail.com or contact us directly
PO Box CY300 Causeway, Harare
© CAS 2013 Harare | ACSSZ | several images from Google images