The next Aloe, Cactus and Succulent Society of Zimbabwe's RARE PLANT SALE was held on Saturday and Sunday 9th and 10th November 2019 at the Harare Botanical Gardens (Office entrance):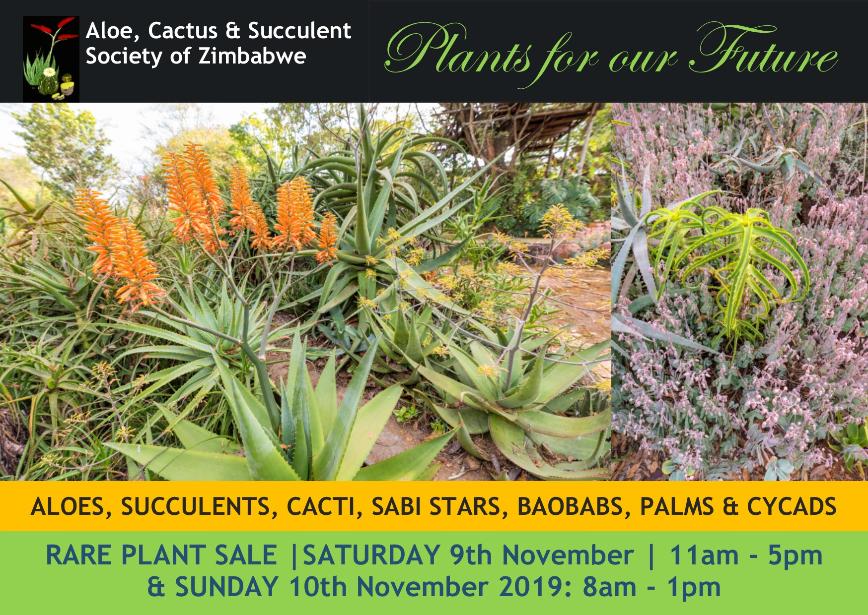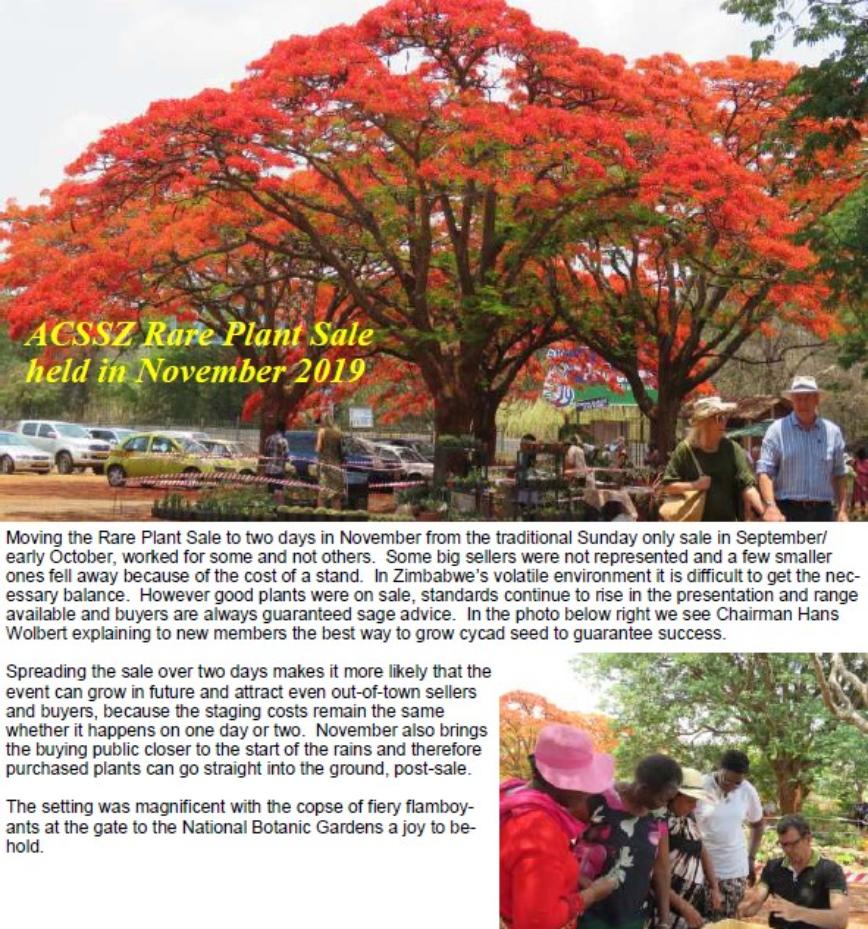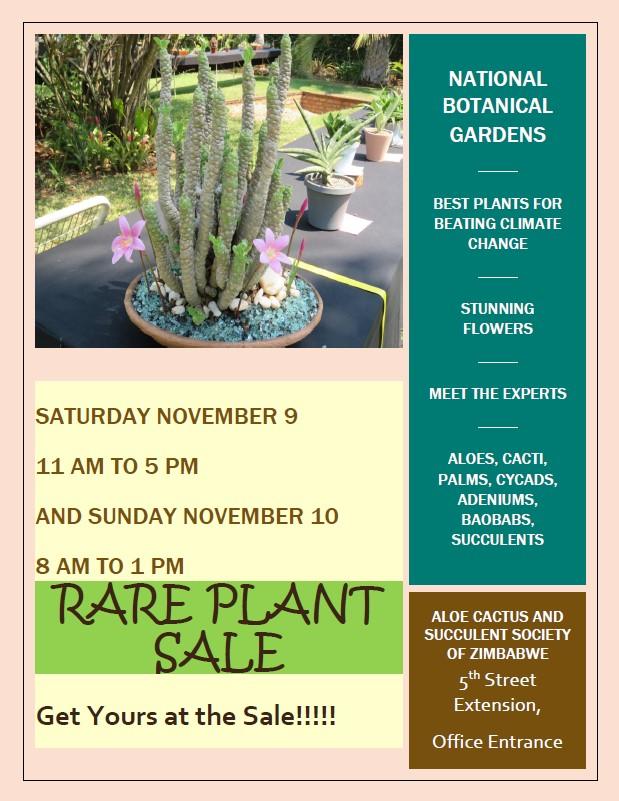 SATURDAY 9th November | 11am - 5pm
SUNDAY 10th November 2019 | 8am - 1pm
Aloes, Succulents, Cycads, Palm, Cacti, Sabi Stars, Baobabs,...
National Botanic Gardens | 5th Street Extension | Harare | at the Office entrance
As always, members are the life of the sale, selling some of their own precious plants, purchasing plants they have always wanted and encouraging their friends and families to attend the sale. The Aloe, Cactus & Succulent Society of Zimbabwe also uses the plant sale as a vehicle to recruit new plant-lovers to the Society.
If you have any questions regarding the sale, contact the Society for more details. The ACSSZ Plant Sales are the perfect place to meet experts and those passionate about their plants.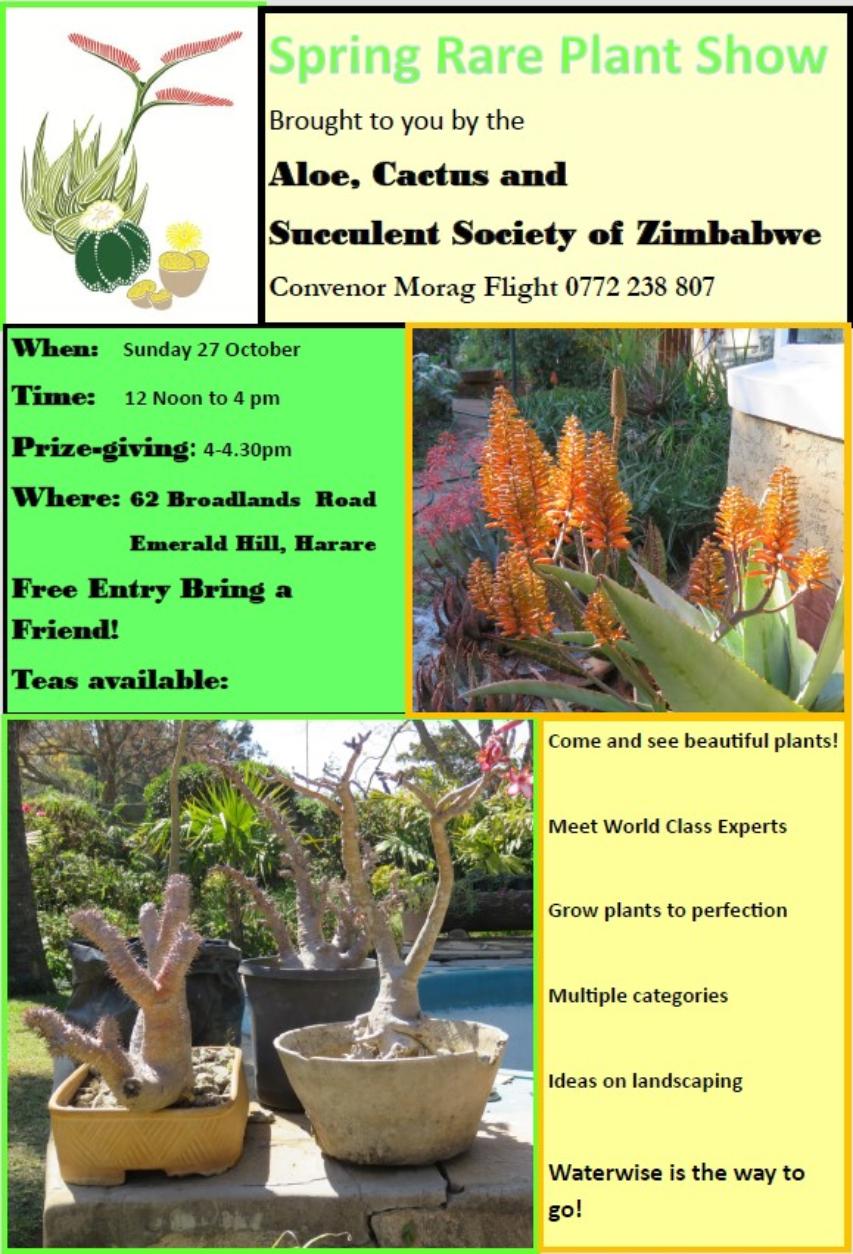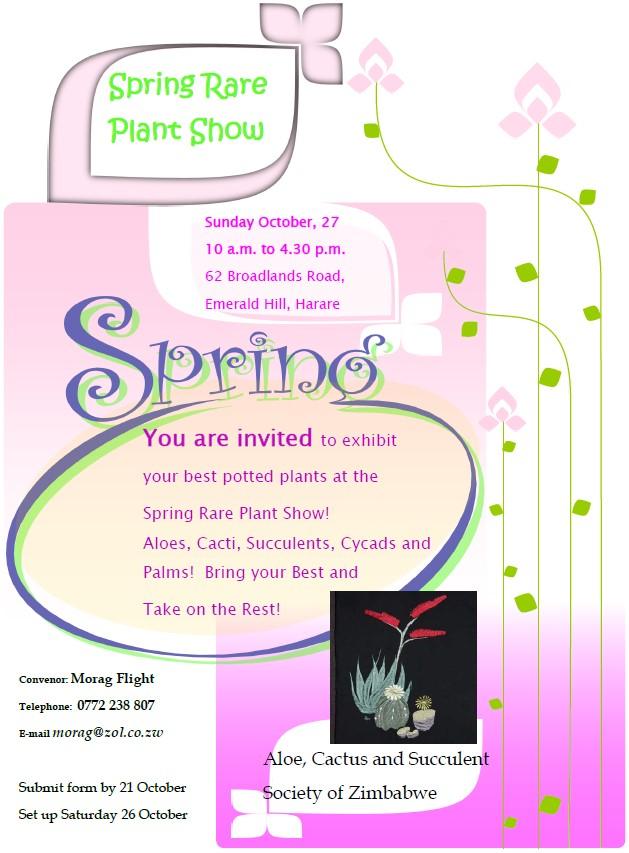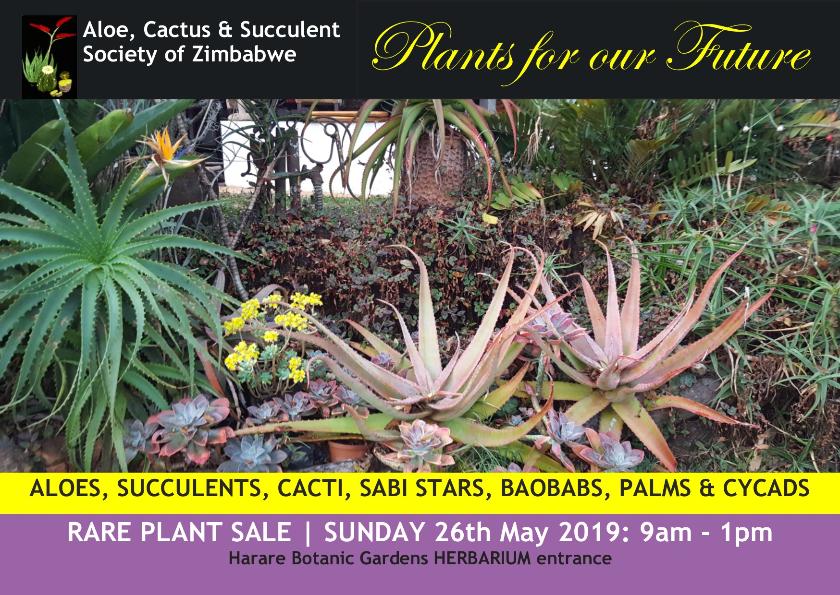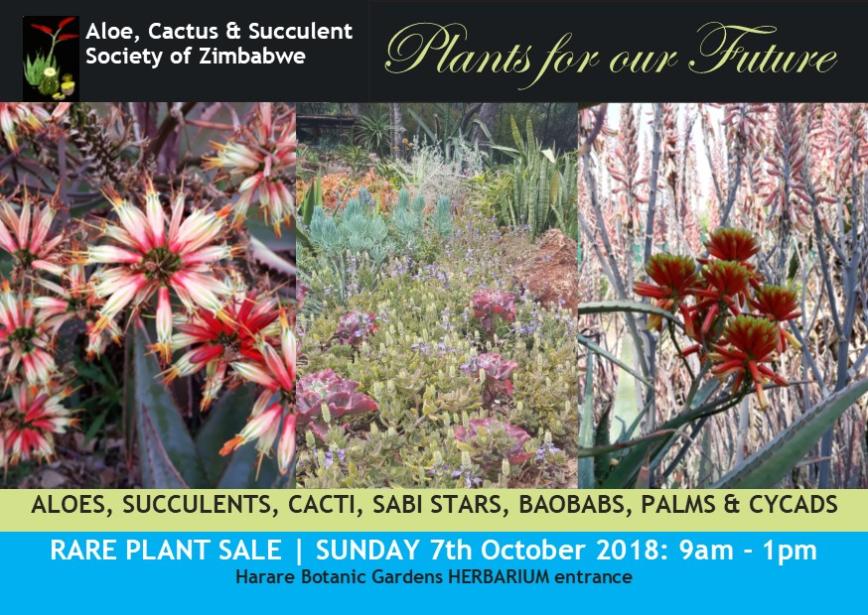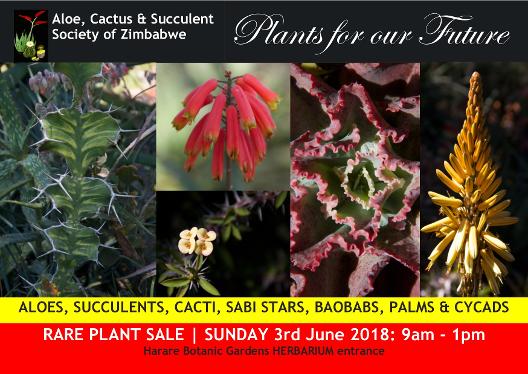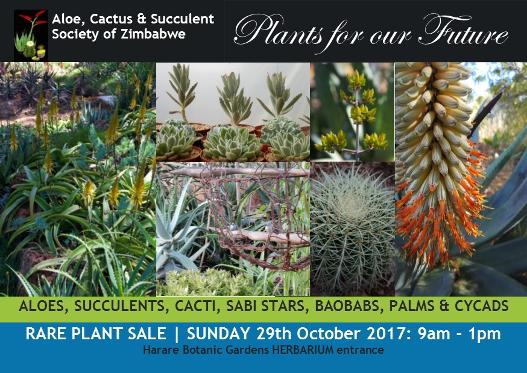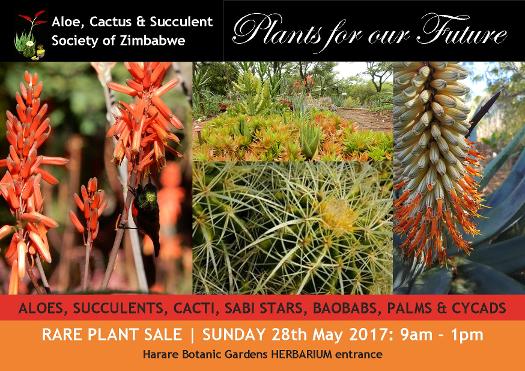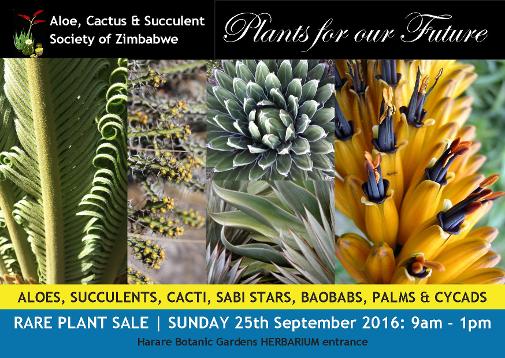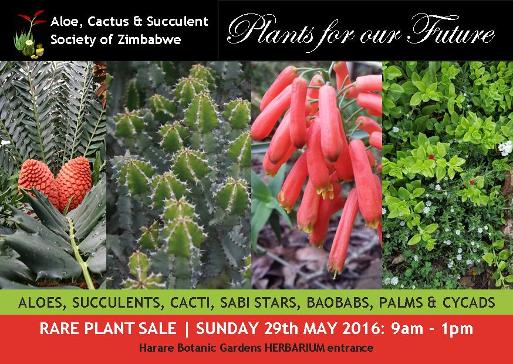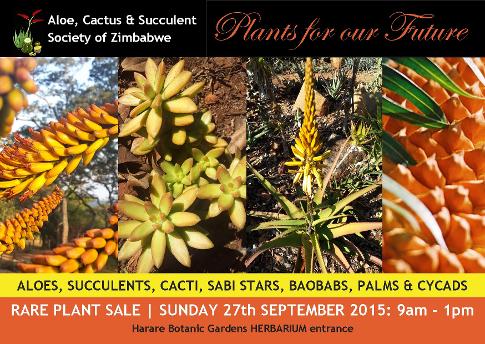 SUNDAY 27th SEPTEMBER 2015 | 9am - 1pm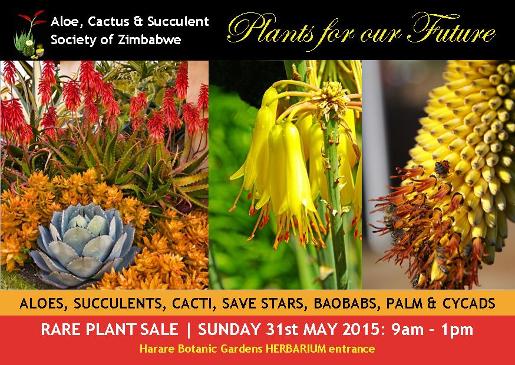 SUNDAY 31st MAY 2015 | 9am - 2pm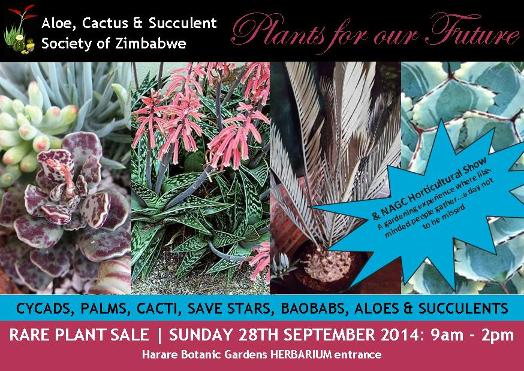 SUNDAY 28th September 2014 | 9am - 2pm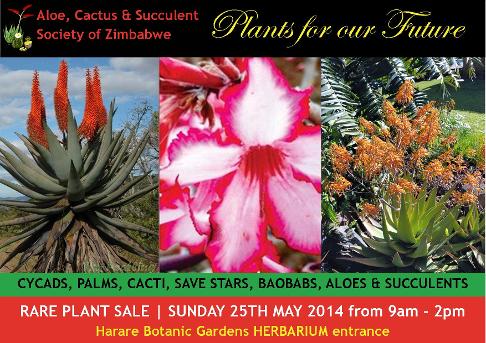 SUNDAY 25th May 2014 | 9am - 2pm
ACSSZ MEMBERSHIP AND SUBSCRIPTIONS
New members are always very welcome and subscription details are available from the Honorary Secretary at:
PO Box CY 300, Causeway, Harare, Zimbabwe
or by emailing aloesocietyzim@gmail.com
Payment of the annual subscription entitles members to participate in all functions and to enjoy all the facilities of the Society, and to receive the society's publications, including: Ingens, the Society's biannual publication, the monthly newsletter and others. Members have access to the specialised library, seed bank, affilliations and ACSSZ resources.
Download our membership form and email along with proof of payment to aloesocietyzim@gmail.com or contact us directly.
The Aloe, Cactus and Succulent Society of Zimbabwe has set up a phone to utilise these transactions, the Number is +263 774 257 791
There are two methods:
Payment using Western Union.
Visit any Western Union agent or on the Western Union site and select the above Comet mobile number as the destination for the funds. Funds are instantly routed to the Societies EcoCash wallet in Zimbabwe
Payment using World Remit.
Go to www.worldremit.com
Register as a sender
Select EcoCash as money transfer medium
Use your bank account, debit card or credit card to transfer funds
Funds are instantly routed to the Societies EcoCash wallet in Zimbabwe