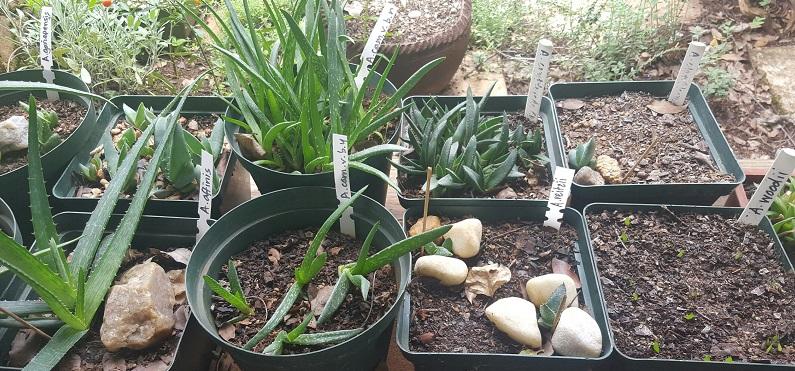 Aloe, Cactus and Succulent Society of Zimbabwe has an extensive Seed Bank.When it is operating, the Seed Bank is available to Local members only.
DUE TO SHORTAGES OF SEED, WE REGRET TO ADVISE THAT THE SEEDBANK IS CURRENTLY IN HIBERNATION
ACSSZ SEED BANK RULES:
1. Maximum order: 10 species at a time
2. Charge : $1 per order
3. Email orders (in alphabetical order please) to Hans Wolbert at wolbertjga@gmail.com. You will need to collect upon notification.
4. All recipients are asked to return a germination report form (provided)
The Seed Bank, is currently in action! Some are in abundant supply while others are extremely short. We are still, however, desperately short of fresh seed. Please check your gardens and keep your eyes peeled for seeds on your outings. Place whatever seeds you find in an envelope labelled with the species and whether collected in a garden or in the wild and pass them to a committee member.
ANNOUNCING THE ALOE FUNDI AWARD
There will be a cash prize of $100 to the first person who takes seed of Aloe polyphylla
from the Seed Bank and grows it to the point of flowering.
Current seeds, which are ALWAYS subject to availability and can not be guaranteed, were available at February 2016:
Silverhill Seeds & Books
Cape Town, South Africa
Due to the current hibernation status of the ACSSZ Seedbank, we would like to recommend members to reach out to Ondine at Silverhill Seeds and Books.
Alternately, take some time to browse their excellent website, where you can order and pay for a wide variety of seeds ONLINE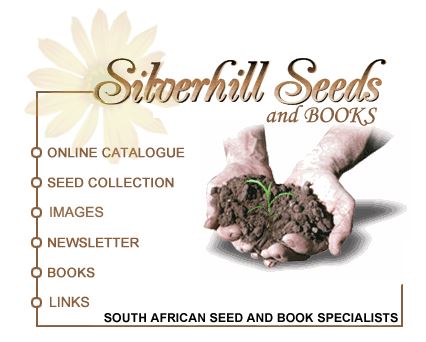 Silverhill Seeds & Books newsletter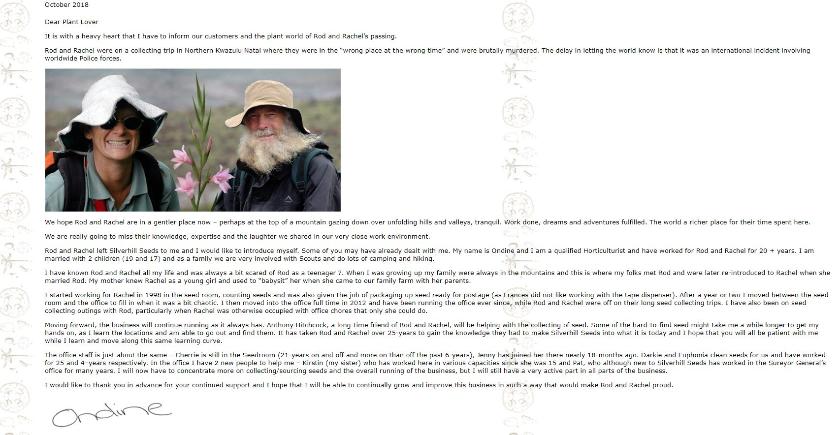 Alternative suppliers
Due to the current hibernation status of the ACSSZ Seedbank, please click here to go to the wide variety of links on the Resources tab of our website.
There are a number of Affiliations that may be of use in securing the precise seed you want, or simply to introduce yourself to fellow Succulent lovers. Click here to go to the Affiliations tab.
Come along to one of our Outings, Functions and Events, to find out how to collect and store seeds either from informative lectures, or one of our experts!
Annual Membership fees:
are due in January each year. Now is the time to renew. Remember for your dues, you get a monthly newsletter, free issues of Ingens as they are published and under normal conditions you are invited to at least 11 choice venues per year. Big-time Bargain Bonanza.
Step 2: pay and communicate your proof of payment:
Local Membership - US$10 single or per couple. US$5 pensioners. US$2 children
South Africa membership - US$10 per year
Regional and Foreign membership - US$40 per year.
Make payment to: A Committee Member in cash (US$)
at the AGM or at the monthly meetings going forward. Be sure to bring US$ cash for the correct amount as change is a big problem. Alternately, make arrangements to drop off dues with Mike Caulfield (please make arrangements with Mike by messaging or calling him on 0772 241 286
Make payment into our Nostro Account:
CABS Nostro Michael Caulfield 11 25107839
Reference: kindly include your Surname as the deposit reference.
Payment using Western Union:
Visit any Western Union agent or on the Western Union site and quote:
"Mike Caulfield" and ID "714896 W 00"
The sender will receive a mATCN code, which should be sent to
+263 774 257 791 or aloesocietyzim@gmail.com
You may need to supply 2 email addresses as below:
aloesocietyzim@gmail.com and mcaulfield38@gmail.com
Funds are instantly routed to the Society in Zimbabwe
Payment method currently unavailable
CABS Platinum: Aloe, Cactus and Succulent Society Acc#: 1002 616 336
Reference: Kindly include your SURNAME as the deposit reference)
Payment method currently unavailable
Ecocash: 0772 255 784 (Doreen Richards) Please message your SURNAME and REFERENCE.

ACSSZ MEMBERSHIP AND SUBSCRIPTIONS
New members are very welcome and subscription details are available from the Honorary Secretary at:
by emailing aloesocietyzim@gmail.com
Payment of the annual subscription entitles members to participate in all functions and to enjoy all the facilities of the Society, and to receive the Society's publications, including Ingens the Society's biannual publication (number of publications may differ year to year), the monthly newsletter, Ortholopha and others, and have access to the specialised library, Seed Bank, Affiliations and ACSSZ resources.
Payment using World Remit - not for use after 2019.
Go to www.worldremit.com
Register as a sender
Select EcoCash as money transfer medium
Use your bank account, debit card or credit card to transfer funds
Funds are instantly routed to the Societies EcoCash wallet in Zimbabwe